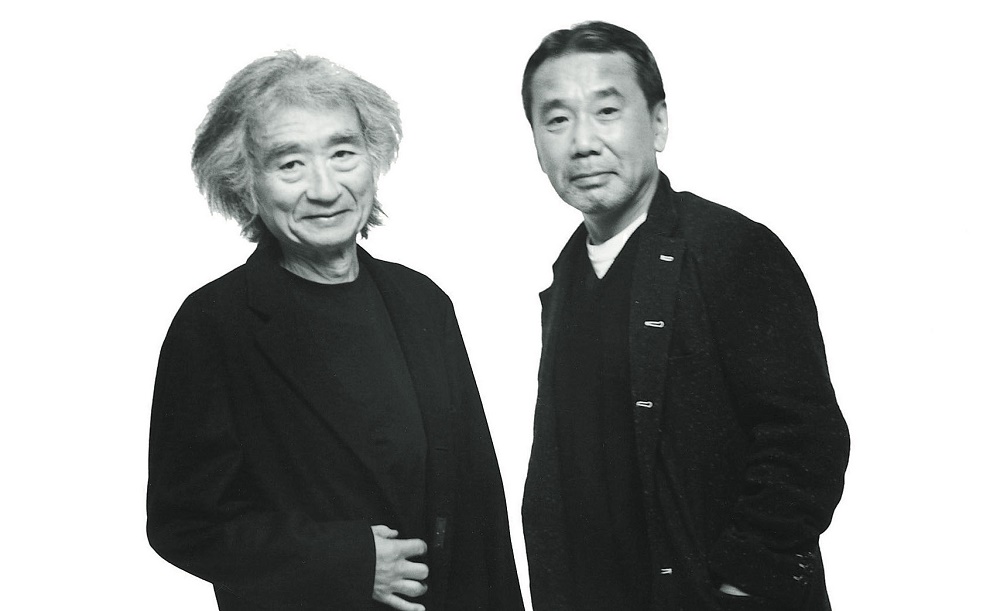 Haruki Murakami – Absolutely on Music, book review
[ad_1]
Speaking of his beloved Louis Armstrong, Ozawa – unlike the posh jazz police – has kind words for the aging artist as well as the prewar virtuoso. "You know how we talk about artistic 'shibumi' in Japan, when a mature artist reaches a level of austere simplicity and mastery? Ozawa asks Murakami. "Satchmo was like that."
Now 81, the former conductor of the Boston Symphony Orchestra (for a 29-year record) and Vienna State Opera has settled into a reflective fall as a teacher , mentor and guru. An operation for esophageal cancer in 2010 created the space and time for a remote convalescence which made this book possible. In Tokyo first, then in his Swiss summer school near Geneva, Ozawa sat down with Murakami to talk about music with an unpretentious grace that itself embodies "shibumi". Passionate, at times intellectual, discussions of favorite recordings by Beethoven, Brahms, Stravinsky and Mahler spill over into broader reflections on craftsmanship and performance, art and aging. As Murakami writes, these conversations have sewn a "rare silver lining" into the cloud of disease – though the sun breaks through as Ozawa picks up the slack.
In itself, such a wealth of information from a stellar career would count as a notable event. The presence of Murakami on the other side of the microphone changes the situation, however. As a high-level literary and musical pinnacle, the book has few valuable equivalents – one being Daniel Barenboim's series of conversations with Edward W. Said, Parallels and paradoxes. Not only do twin doors open onto the orchestral maestro's studio and the superstar novelist's studio. Murakami works hard to strike what he calls "an effective passage" through the "high and thick" wall that separates the literary music lover from the seasoned professional.
Granted, the result can wander, wander, and even get lost in the manner of Murakami's declining narrative style – or, perhaps, the notoriously snail version of Brahms' first piano concerto that Glenn Gould recorded with Leonard Bernstein (a parts examined here). At best, however, these maids of muse sisters have easy relationships. It sheds new light on both the "solitary craftsman" author and the conductor whose devotion to a "common work of art" can hide a "deep fog of loneliness".
Running and music have always kept pace with Murakami's obsessions. The novelist – who once owned a jazz bar in Tokyo called Peter Cat – infuses his prose with sound. For example, the recent novel Colorless Tsukuru Tazaki and his years of pilgrimage nods in its title to Liszt's Piano Odyssey Pilgrimage years. He has characters who chew up the best recording of this work (Lazar Berman or Alfred Brendel?), And sends the hero on a quest to a sort of enchanted forest where he meets a mysterious jazz pianist who plays "Round Midnight" by Thelonious Monk. . When, in his futuristic and dystopian epic 1Q84, Murakami did Janáček's Sinfonietta sort of musical theme or leitmotif, worldwide sales of this work exploded for a while.
Most aficionados tend to focus on the jazz and pop allusions that dot their stories as signals, atmospheres, and character cues by the author of Norwegian forest. But the classical Western repertoire that occupies him in this book has served as both a "stimulus" and a "source of peace" at the same time. For Murakami, "jazz and classical music are basically the same."
As Absolutely on the music shows, the writer cherishes the kind of performances that express the creative freedom he enjoys most in a Charlie Parker or a Miles Davis. When Ozawa and Murakami listen to the recording of Beethoven's concerto by Gould and Bernstein, the latter marvels that the Canadian maverick pianist "changes the beat so freely – if he was a writer I would say this is the way. which he pronounces his sentences ".
One gets the impression that Murakami is hunting down in musical performances an equivalent of the fluid, free, almost improvised quality that makes his own prose so captivating – or, to skeptical critics, so cowardly and confused. As the duo delve into the third movement of Mahler's first symphony, Murakami paints a self-portrait in disguise. When he despises "Herbert von Karajan's visceral intolerance for the hybridity, vulgarity, disunity of Mahler" and insists that a tavern song, a funeral march and a klezmer melody can jostle each other in his symphonies on an equal footing and without a "sense of fate" about the final destination of the music, you see Murakami looking into a sort of sound mirror.
Fortunately, in Ozawa, he has a like-minded interlocutor. A dialogue of Murakami with Karajan – who appears here as the archetype of the Germanic, orthodox and austere autodidact – could have lasted 30 seconds. Sometimes that cozy kinship of stickman and keyboard drummer feels a little gooey. When they play Mitsuko Uchida's version of the same Beethoven concerto, Murakami provides the staging: "Music is truly miraculous. The two listeners moan simultaneously. Too much of this and the reader will moan. Like any sensitive conductor, however, the interviewer knows when to vary the pace and weight.
This relaxed, sociable tone – worn in English with a pleasantly light touch by translator Jay Rubin – masks some disparities. The serene former statesman, Ozawa looks back in wonder, appreciation, and sometimes regret. He's even worried that his creamy, polite Boston band has a tendency to "make sounds too nice." In contrast, Creative Magpie Murakami not only pays homage to a hero, but reclaims the recorded repertoire for music he can put to work. Sometimes you feel the writer's eye or ear on the next – or last – book.
The novelist categorically states that "you cannot write well if you don't have a musical ear", and that all good prose "must have an inner rhythmic feel that propels the reader forward". Despite the odd length, these dialogues have this. They add to a sprawling Mahler-style "polytonality" feast – or, alternatively, the kind of protean jam session Monk and Parker relished.
[ad_2]
Source link